Volunteer
Give back to Louisville and feel good while doing it!
Harbor House has many opportunities for individuals to volunteer in Louisville to give back to our community! Our biggest need for volunteers comes in April and May of each year as we prepare for our largest fundraiser, the Ken-Ducky Derby. Still, we have a great need for volunteers year-round to entertain, have fun with, and host parties and events for our participants! We welcome volunteers at the individual level who may need to fulfill volunteer hours, groups who want to give back, or school/work groups that are looking for a bonding experience that makes a difference.
Our participants love to see new faces and greatly appreciate all the work our staff and volunteers put into making their lives better and more successful.
Some examples of recent and current volunteer activities:
Individual Examples: weekly craft time visits; weekly music time visits; mail fulfilment help; office work help
School/Work/Group Examples: 1-2 hour party in the gym next door; 1-2 hour watercolor painting activity with participants in our facility; 1-2 hour pillowcase decorating party; monthly birthday parties; labor/cleanup outside days; gardening/mulching days; religious study
Contact Kelly Green for more information about individual, school/work, or group volunteer days at [email protected] or call 502-719-0072 ext. 520
Volunteer Areas Described
Programs Department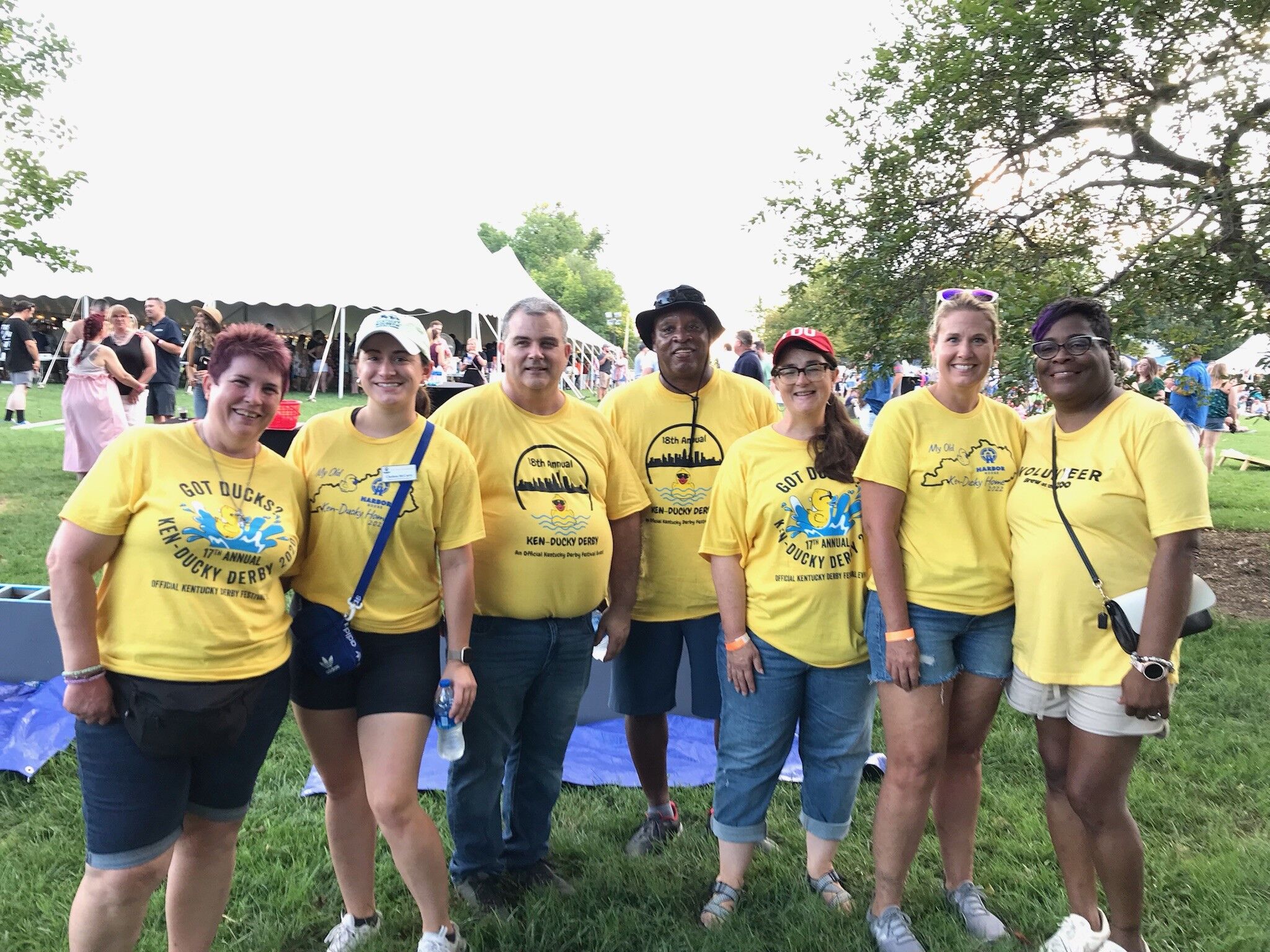 Volunteering with our Programs Department means you would be working directly with our participants. Do you have a specific skill or talent that you could share, teach, or give a presentation on? We love bringing talented individuals into our facility to help further enrich the lives of our participants.
Examples of Programs Volunteering:
Instructional volunteers or helpers for activities with participants like fitness, budgeting, safety, cooking, & arts & crafts
Artists, Art Educators, Gardeners, Cooks, & Musicians
Special Education Teachers, Music Therapy Teachers/Students, Social Work, Computer Instructors
Ambassador
If you have a busy schedule and are interested in still making a difference, you can always be an unofficial ambassador of Harbor House.
Examples of Unofficial Ambassador Volunteering:
Invite friends, co-workers, &/or family out for a tour of Harbor House
Spread the word about our events & fundraisers by "Liking" or "Sharing" our social media posts
Administrative / Building Maintenance
Filing and Data Entry
Help with our gardens, landscaping, and building up-keep
Mail Department
Assisting with specific jobs including folding, inserting, and tabbing
Special Events
Ken-Ducky Derby and other events leading up to the duck race – selling duck adoptions, working booths, data entry
Form a duck adoption team to sell online or at an event of your choosing
Fundraising Events – set-up, clean-up, check-in, captain a table, and greet guests
Holiday, Appreciation, and Participant Parties
Monthly Landscaping Days, MLK Jr. Day of Service, Taste of Louisville, KY State Fair, Parades
Corporate Volunteering
We would love to work with your company on a customized corporate volunteer event of any size or activity.
Landscaping/Outdoor Area Cleanup
Host a Field Day
Create walking trail around property